Davey, Paxman & Co of Colchester
Some History of a Famous Engineering Company,
its Products and Achievements
Welcome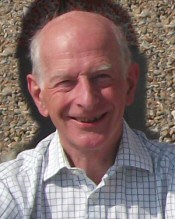 The aims of this website are to record some of the history of Davey Paxman & Co of Colchester, England, and to make that history widely accessible. During an eventful history, now spanning 150 years, the Company has been a world leader in engineering innovation and manufactured a wide range of products. I and others who have worked for Paxman believe it important that the story of the Company, with so many achievements to its name, should not be forgotten but preserved for future generations.
Through various 'downsizings' and 'rationalisations' between the late 1980s to 2003 the size of the Company and the scale of its operations progressively diminished. At the end of November 2003 manufacturing was transferred from Standard Works to Stockport, but in mid-2005 MAN B&W decided to cease making the VP185 engine range there and to withdraw it from the market. Due to strong customer interest in the VP185, the Colchester Works resumed building and testing new VP185s in July 2005. In 2012 the company began offering the VP185 with the option of electronic fuel injection (EFI). As at spring 2015, the factory continues to be busy, with a substantial order book for new VP185s.
If you are visiting this site for the first time and are unfamiliar with the Paxman story, you may like to start by reading the Introduction to the Company lower down this page.
The history of Paxman can be considered as a story of two parts. The first part, from its founding in 1865 up to the 1920s, is dominated by steam engines and boilers. The second part, from 1925 to the present day, centres around the Company's diesel engine activities. This website attempts to provide extensive coverage of both parts of the story. Paxman has also been involved in other fields, such as filtration, which have not been forgotten in the story told here.
For an overview of Paxman's steam activities the best place to start is the page Paxman and Steam Engineering. To learn about Paxman's work in the design, development and manufacture of diesel engines, I suggest you start by reading, in turn, the pages - Paxman Heavy-Fuel-Oil Engines, Paxman Heavy Duty Diesel Engines, and Paxman Diesel Engines since 1934
If you already know something of Paxman's history and are seeking information on a particular activity or topic you will probably find it most helpful to go to the Site Map and Contents page. Here you will find a listing of each page on this site with a summary of its content as well as a facility for searching the wealth of material now available here.
I hope you enjoy these pages and will return to see additional and updated articles as the site continues to develop. Many existing pages are regularly revised and expanded as new information becomes available and sheds more light on Paxman's remarkable history.
Richard Carr
Notes for Site Visitors
Your attention is drawn to the Disclaimer of Liability applying to this websites and its content.
This is not an official Paxman website and does not purport to carry any official approval or endorsement by the Company. See the Contact page for Company contact details and official websites.
Using a link from here to a different site will normally open a new window in your browser. After visiting the linked site, close the new window to return to the page you were browsing here.
TIP: Some pages on this site are lengthy. To find a particular name or word on a page hold down the Ctrl key and press F. Enter the name or word in the search box which will appear and then click on OK. This handy tip should work on any website.
Latest News
(in reverse chronological order - most recent first.)
Have you recently checked out the new pages and major updates?
---
Dennis Rippingale: Dennis died peacefully on 6th November at the age of 85. He joined Paxman in 1944 and left in April 1994 having served just short of 50 years with the company. A very experienced engine Fitter/Tester, he was highly regarded by colleagues. We offer our condolences to his wife and family.
The funeral is to take place at St Albright's Parish Church, Stanway (CO3 8LR) on Wednesday 2nd December at 2-00pm, followed by committal at Colchester crematorium. (Good options for off-road car parking are the Wyevale/Toby Carvery car parks on the other side of the road.) The family request no flowers please, but donations if desired in memory of Dennis to St Helena Hospice.  (posted 25-11-15)
---
Roy Dingle: Sadly I have to report the death of Roy Dingle who died on Friday 30th October at the age of 93. Roy joined Paxman in 1939 and rose to become the company's Chief Engineer. At the time of his retirement in July 1987 he had accrued just short of 48 years service. Roy was a key member of each of the small teams that designed the Ventura and the Valenta, two of Paxman's most successful engines. We offer our condolences to his wife and family.
The funeral took place on Tuesday 24th November and was attended by a number of Roy's former Paxman colleagues.  (post updated 25-11-15)
---
Paxman 150: 2015 marks the 150th anniversary of the founding of the Paxman business by James Paxman in 1865. The Paxman Archive Trust has been doing what it can to bring this milestone to people's attention.
There is a showcase in Colchester's Castle Museum displaying a variety of Paxman artefacts and photographs from different periods of the company's history. This temporary exhibition will continue to run until early December.
The October 16th issue of the Essex County Standard carried a double page spread about Paxman's 150 year history. Written by Andrew Phillips, chairman of the Paxman Archive Trust, the pages include some interesting photographs.
From 13th September to 11th October a 'Paxman 150' exhibition was staged at the Museum of Power at Langford, near Maldon, Essex. For this the Paxman Archive Trust prepared a special display tracing the history of Paxman over its 150 years. The museum has an important representative collection of heritage Paxman engines, comprising a restored 1892 compound steam engine, five diesel engines and two sectioned ones.
On 26th September Ian Drake, Don Meiklejohn, I and several members of the Paxman family were guests of the Romney Hythe & Dymchurch Railway (RHDR) Association Heritage Group. On 26th/27th September the Heritage Group held a most successful and enjoyable Heritage Weekend during which the RHDR celebrated the 90th anniversary of Paxman's delivery of its first two steam locomotives, 'Green Goddess' and 'Northern Chief'. On the Saturday there was a 're-enactment' of an event that never actually took place - the handover of 'Green Goddess' by Paxman to the railway. Ian played the Paxman role in the re-enactment and gave a much appreciated speech (spiced with some humour). Included in the weekend's events was an exhibition prepared by the Paxman Archive Trust, tracing Paxman's history from its foundation to the current day - it was good of the Heritage Group to invite us to mount a 'Paxman 150' display. During our visit to New Romney the members of the Heritage Group and railway staff were most welcoming and hospitable.
'Green Goddess' and 'Northern Chief' were followed by five more Paxman locomotives for the RHDR, these being delivered in 1926-1927. All seven are still in service. Details about them can be found on the Steam Engineering page of this website.
Just over 110 years ago the company first embarked on building internal combustion engines when in 1904 it made its first gas engine and started experimenting with a spark-ignition oil engine.
2015 also marks the 90th anniversary of the start of Paxman's work with compression-ignition oil engines, its first development diesel engine having been built in 1925. (post updated 27-10-15)
---
Internal Fire Museum of Power: On June 7th I had the opportunity of visiting the Internal Fire Museum of Power, just north of Cardigan in West Wales. Paul Evans, the Director, and his volunteers are doing a magnificent job of developing this museum of working engines. Among the exhibits are working examples of some very large Allen and Ruston engines. The museum's collection includes a rare Paxman 12-cylinder Vega air-cooled diesel in good working order and a 12-cylinder Paxman YHAZ generator set (not yet on public display but viewable on request).
If you are heading to West Wales for any reason I can thoroughly recommend a visit to the Internal Fire museum which is well worth supporting. If you can't get to the museum yet, you can view many of the exhibits on its website, using the link above. Paul has ambitious plans for further development of the museum as and when resources allow. (posted 20-06-15)
---
Paxman 6VN at Blenheim, South Island, New Zealand: Russell Gifford has emailed to say that the 6VN engine No 23407 of 1930 was run on Saturday 30th May when 'she fired up beautifully'. This was followed by a second run the following day. Russell reports that they have a capable crew on hand in Blenheim, which is good to know. (posted 20-06-15)
---
£39million Engine Order for Colchester: Now it is in the public domain *, I am at liberty to disclose the fact that MAN Diesel & Turbo UK last year secured a £39million contract for VP185 engines which will be built at the former Paxman Works at Colchester. The order is for sixty 12-cylinder VP185 engines, each rated 3,640 bhp, for installation in 28 fast patrol boats for the Taiwanese coastguard service. The boats, each with two engines (four engines are spares), are being built by the Ching Fu Shipbuilding Company of Taiwan.
The engines will be supplied over a six-year period with the first two having already been delivered. As a result of the contract, the company has hired six additional fitters and two new apprentices at Colchester. It is encouraging to know the factory now a good baseload of work for the next few years. (posted 03-05-14)
* see East Anglian Daily Times article, published 2nd May 2014
---
Paxman Steam Engine at work in Myanmar (Burma) Rice Mill: In early February (2013) Doug Brooks emailed to say that a Paxman horizontal single cylinder steam engine, brought to my attention by Rob Dickinson in 2006, was still at work last November (2012). During his visit to the rice mill in November Doug made a very good five minute video clip of the engine at work. This can be viewed on YouTube at www.youtube.com/watch?v=GIYjt9yMBlg  The engine, believed to be a Class K, was perhaps built in the 1920s and is at the Za Bu Nyunt Rice Mill, Paline, near Shwebo, Sagaing Division, Myanmar. See the relevant item on the page Surviving Paxman Stationary Steam Engines. (posted 15-02-13, updated 18-02-13)
---
Call for RW Engine Cylinder Heads: In 1938 Paxman supplied an 8-cylinder RW engine to Norway for installation in a small fire-fighting vessel. The vessel, Slukk II (Extinguish 2), was built by Nyland Mek of Oslo for Kristiansund's Fire Department and was in service from 1939 to 1986. It is now in preservation at Kristiansund and the small group which looks after it needs replacement cylinder heads. Due to corrosion the cast-iron of the originals is now very thin and three of the four heads (which are cast in pairs) have cracks in them. Trying to source heads for the RW is, understandably, a real problem. If you think you can help, perhaps by pointing us to a possible source, please do contact me.
Some pictures of the vessel and its engine can be viewed on the Dropbox website at http://www.dropbox.com/gallery/16214039/1/Paxman%20Ricardo?h=8ee4b0. (post updated 19-05-12)

---
Major VP185 Order Received: MAN Diesel & Turbo UK's Colchester Business Unit received an order for eighteen 18-cylinder VP185TCM engines in January 2012. The engines are for the Vietnamese Marine Police and the Vietnamese Navy which, between them, already have eighteen 18VP185 engines in service. Those engines on order are for the main propulsion of six triple-engine, triple-screw fast patrol boats. Port and starboard engines are identical, with the flywheel facing aft and coupled to a reverse-reduction gearbox driving a propeller shaft. The centre engine's flywheel faces forwards, and is coupled to a U-drive, reverse-reduction gearbox connected to a propeller shaft which runs back underneath the engine. Each engine is rated at 4MW at 1,950 rpm. The new engines are to be compliant to IMO Marpol Annex VI, Tier II on exhaust emissions.
The engines on order will be designated 18VP185TCM. This is a change from the notation previously used for identifying Paxman engine types, and has been introduced in order to clarify different engine builds with the Classification Societies. The 'T' suffix denotes the engine is fitted with Triple turbo boxes, the 'C' suffix denotes that the engine is Conventionally fuel injected, and the 'M' suffix denotes that the engine is for Marine propulsion application.
The order is a very welcome boost for the Colchester Business Unit and further evidence of the high regard in which the Paxman-designed VP185 is held. (posted 27-01-12)
---
Company Name Change: With effect from Tuesday 1st June 2010 the Company which owns the Paxman business changed its name from MAN Diesel Ltd to MAN Diesel & Turbo UK Ltd. Following a recent re-organisation of the business, the Spares and Service activities which were previously undertaken at Paxman's Colchester site have now been transferred to Stockport. The Colchester site continues to undertake repair and overhaul of Paxman and other engine ranges. It also continues to build some new VP185s and recently received orders for new Valenta engines for the United States. By the end of June this year the number of people employed at Colchester will fall to 71. (posted 03-06-10)
---
Paxman-Lentz Engine in Bangkok: Confirmation has been received that a Paxman-Lentz steam engine sent to Thailand in February 1915 is still in existence. Rob Dickinson, a steam enthusiast living in Beijing, visited Bangkok at the end of October (2009) and managed to take a couple of photographs of the engine. No 18842 is a coupled compound with cylinders of 17¾" and 29¼" bore, 30" stroke, and has a large flywheel grooved for 17 ropes of 1¼" diameter. Looking at the photographs the engine appears to be in remarkably good condition bearing in mind it is nearly 95 years old and has been idle for several years. See more about No 18842.
As far as we are aware there is only one other surviving Paxman-Lentz. No 18581 is a much smaller tandem compound of 10½" and 17" bore, 18" stroke, which is currently in storage in a dismantled state in southern England. There are concerns for the futures of both engines. The Bangkok engine is located on a prime development site and because of its large size would be expensive to take into preservation. The other engine will remain in a dismantled state until funds can be found to rebuild it and provide suitable accommodation and steam-raising plant so that it can be run from time to time. (posted 24-11-09, updated 17-04-10)
---
Development of the former northern half of the Paxman site: I understand that the original deal with a developer to develop what was the north side of the site has fallen through. Another developer, Bellway Homes Essex, based at Chelmsford, has now applied (at the end of May) for planning permission to build 224 new homes on the site. Public consultation is expected to begin in June with a decision being reached during September. Most would probably agree that the demolished area of the site does now look a real eyesore. A carefully executed redevelopment would bring much needed improvement to the appearance of this part of Hythe Hill. (posted 01-06-09)
---
August 2008 Update: The 'Two Box' Paxman 12VP185 spare engine ordered by Tenix for the Royal New Zealand Navy, and built at Colchester, was despatched on August 4th or 5th. Other interesting engine order prospects are in the pipeline but for obvious reasons cannot be disclosed at this stage. Reorganisation of the South Shop continues, to create additional space to accommodate the workload. As at mid-August relocation of the Fabrication facilities in the South Shop is imminent.
---
Engines in Build at Colchester : It is good to learn that as at early January 2008 Paxman's Colchester factory is busy. In build are three 18VP185 engines for the Vietnam Marine Police, the first of which has just gone to the test bed. The order for these engines was signed last summer (2007). This was a follow on from the six VP185s already delivered to this customer, three of which were built at Colchester. The engines, three per vessel, are for main propulsion of three fast patrol craft.

An order has also been received for a spare 'Two Box' 12VP185 from Tenix which is building four Inshore Patrol Vessels at its Whangarei yard for the Royal New Zealand Navy. Each RNZN vessel has two 'Two Box' 12VP185 engines for main propulsion, some of which were built at Colchester.

Because of the shortage of space arising from the Colchester factory's large workload, plans were announced during the summer of 2007 to move Paxman's spares stores to the Mirrlees factory at Stockport.
---
Site Demolition Progress : I was in the Hythe Hill area on August 30th (2006) so decided to make a short detour up St Leonards Road and then along Port Lane. Most of the walls bordering the factory site along each of these roads have been pulled down leaving the northern half of the Hythe Hill site clearly visible from either road. Virtually all the buildings on this part of the site have now been demolished, with only bricks and rubble awaiting removal. The machine shops, the Old Office Block, production and spares stores, the training school, development shop, spares despatch, etc which were so familiar to many of us are no more. One is reminded of some words from Psalm 130 "… it is gone : and the place thereof shall know it no more".
---
Site Demolition : As at the end of March 2006 most of the old machine shops on the north side of the Hythe Hill site had been demolished. The wall forming the northern boundary along St Leonard's Road has now gone so at present one can get a good view of the site from the road. Many of the old landmarks have disappeared and it is quite difficult to get your bearings even if you previously worked on the site for several years.
---
Demolition of the Old Office Block : Known to Paxman people as the Old Office Block, James Paxman, the Company's founder, had his office here after the business moved to the Hythe Hill site in 1876. That this historic building was at risk became clear when newspaper reports about plans to redevelop the north side of the site appeared in February 2005. Some of us had hoped that the old offices would be preserved, perhaps becoming a small industrial museum for Colchester. Unfortunately it was not to be. Demolition of the original old offices commenced in early to mid-November and by mid-December 2005 they had been levelled. Another piece of our history had disappeared.
---
VP185 New Build Assembly returns to Colchester: When manufacture of the flagship Paxman VP185 engine was transferred from Colchester to Stockport in 2003 a number of us questioned whether a factory which lacked Paxman's experience in high speed diesels could successfully build the VP185. Our doubts would appear to have been well-founded. From the end of July 2005 new build VP185s were once again being assembled by Paxman at Colchester and we understand there is a substantial customer interest in new VP185s. One handicap is the limited machining facilities left at Colchester after the majority were transferred to Stockport in 2003. The Stockport factory had apparently struggled to machine major components to the required standards, in the necessary quantities, and at economic cost. The machine tools transferred to Stockport in 2003 have been sold to Korea and machining of VP185 parts ceased at Stockport in Spring 2006.
---
Main Office Block Demolished: Driving past Paxman on 14th April 2005 one could see that demolition of the front section of the Main Office Block, in Port Lane opposite the recreation ground, had commenced. By July the front three storey section, which was built in 1954-55, had disappeared. A local landmark, and the offices in which I and many others worked at Paxman, are no more.
---
Paxman Site Redevelopment: The Essex County Standard of 11th February 2005 carried a report about outline draft proposals for redeveloping part of the Standard Works site. Under these proposals old workshops and factory buildings, on now unused parts of the site, would be demolished to make way for new housing, business premises, and a 330-pupil school.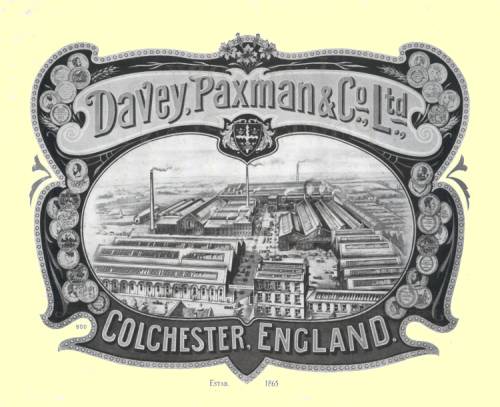 Introduction to the Company
The business of Paxman in Colchester, Essex, has a long and proud history of engineering excellence and innovation. It has earned a world-wide reputation for its large high speed diesel engines and been a major influence on the social and economic life of Colchester since the late nineteenth century. During the 1960s the Company employed as many as 2,500 people. Although the number of employees progressively diminished in succeeding decades, Paxman remained a major engineering employer in the area until 2003.
The Company was founded in 1865 by James Noah Paxman, in partnership with two brothers Henry and Charles Davey, trading as 'Davey, Paxman & Davey, Engineers'. In its 138 year history the name and ownership of the business have undergone various changes which are described on the page tracing the course of Paxman's ownership and corporate identity.
The original Standard Ironworks was a brick and timber building situated more or less where Waterstones Bookshop now stands in the Culver Precinct area of the town. The business expanded rapidly in the years after it was formed and soon needed more space. James Paxman acquired the site of an old brickworks on Hythe Hill to which the Company moved in 1876 and where it is still based. The site had previously been a brickyard. The astute and enterprising Mr Paxman re-opened the brickyard to produce all the bricks for building his new Works. After the factory was completed the brickyard plant was dismantled and the space used for later extensions. The new site was also called Standard Ironworks and at this stage covered an area of 11 acres. The Works expanded and for very many years, up to 2003, occupied approximately 23 acres.
From 1941/42 the Company also occupied Britannia Works adjacent to Colchester Town railway station. 'The Brit' as it came to be known was originally leased by the Ministry of Supply to provide Paxman with space for building their TP engines during the Second World War. Later it housed the Development Department for many years and some machining facilities prior to closure in 1982. It was demolished in 1987 to create a car park. At the bottom of St Botolph's Street a Paxman engine crankshaft now stands on a plinth to mark the site of the former Works.
Davey, Paxman & Davey commenced business as general engineers offering their services to farmers, millers, builders, and other machinery users in the locality. In addition to iron and brass foundry work they manufactured and repaired steam engines, boilers, agricultural machinery, and mill gearing. James Paxman had previous experience of building steam engines and the new firm soon became highly successful in this field. The Company's first steam engine appeared by 1870 and received a very favourable press. 'The Engineer' said of the boiler "We have no hesitation in pronouncing it the best vertical boiler yet produced". The plant was the most economical of those tested at the Royal Agricultural Show that year. The immediate success of the Company's first stationary vertical engines and boilers encouraged it to increase its range of horizontal stationary and portable engines. For more details see the page on the history of Paxman and steam engineering.
James Paxman was not slow to exploit opportunities in overseas markets. By the early 1870s he was exporting machinery to the Kimberley Diamond Mines in South Africa. For thirty years (between 1880 and 1910) he travelled and exhibited extensively overseas to promote his Company's products. Throughout its subsequent history the Company has continued to be very active in export markets.
The next important development was oil and gas engines, the first being built in 1904. These were horizontal, open-crank designs. Paxman's earliest oil engines ran on 'light spirits' and had low-tension magneto ignition. The gas engines sold much more successfully than the very similar oil engines, and many of these were sold to overseas customers. More about these engines and their features appear on the pages Paxman Benzine Engines and Paxman Gas Engines. Compression ignition oil engines were to follow but their development was delayed by the demands of war production between 1914 and 1918. Paxman built prototypes of its vertical 'spring injection' oil engine in 1925 before publicly launching it in 1927. The history of these engines, which found a ready market in electrical power generation applications, is to be found on the page Heavy-Fuel-Oil Engines. The second generation of the Company's oil engines, the Heavy Duty Diesel appeared on the market in early 1931.
From the 1930s the Company's main activity became the design and manufacture of diesel engines. After 1934 these were medium or high speed diesels, built to meet the needs of customers requiring a high power to weight ratio. In short, a relatively light, compact engine with a high power output. That being said many of the engines produced in recent years weigh in the region of seven to ten tons with power outputs of up to 5,500 bhp. For details see Paxman engines since 1934.
All these engines were designed, developed, and manufactured at Colchester. The machining of major components (e.g. crankcases, con rods, cylinder heads and cylinder liners) and many smaller parts, building, testing and overhauling engines were all undertaken at Standard Works until early 2003. It should be added that up until 1979 the Company had its own large foundry on the Standard Works site and a pattern shop. On 13th September 1979 the foundry produced its last casting, a 12YJ engine crankcase.
An important factor in the Company's success was its strength in the field of applications engineering, working closely with customers to tailor engines to their highly specific requirements. Paxman engines are used in applications as diverse as marine main propulsion in fast naval patrol craft and fast ferries, specialist power generating sets where size and weight are critical, and rail traction as in the British High Speed Train (the HST, popularly known as the Intercity 125) and its Australian equivalent. There is a page on this website illustrating a variety of applications of the most recent engine ranges.
Markets are world wide with engines in service in North and South America, the Gulf States, Africa, Pakistan, the Far East, Australia, and many other locations not forgetting the UK and Europe.
Paxman became part of MAN B&W Diesel Ltd in June 2000. On 18th May 2001 MAN announced a re-organisation of its diesel engine businesses in the UK. At that stage management of the Paxman engine business was transferred to MAN B&W Diesel Ltd's Strategic Business Unit - High Speed, based at Stockport in Cheshire. The implications for Paxman became more visible in Spring 2002 when most of the Sales, Contracts, and Finance functions were transferred from Colchester to Stockport. During 2002 instructions were issued to remove the Paxman name from most brochures and other literature and to replace it with the MAN B&W Diesel Ltd identity. It was sad to see the name of a business, known and respected throughout the world, being systematically erased. By the end of December 2002 the Development function had been disbanded and the Engineering (design) function reduced to a small handful of people to support existing engines. Never again will a new Paxman engine be designed at Colchester.
On Thursday 6th February 2003 MAN B&W Diesel Ltd announced in a press release its proposals to transfer manufacture of the flagship Paxman VP185 engine to Stockport. The transfer progressed relatively rapidly. The last production (i.e. not overhaul) VP185 engine to be built at Colchester was despatched from the Works on Monday 15th September 2003 to a railway customer. Manufacture of components finally ceased at Colchester at the end of November 2003 when the few remaining machine shop staff were dismissed. Those machine tools and other items of plant not required at Stockport or for the overhaul facility were auctioned off the following week, on 2nd December. This looked like the end of 138 years of manufacturing by Paxman at Colchester. All that was left on the Standard Works site was the Diesel Service (Spares, Service and Overhaul) activites, employing around 100 people, and Regulateurs Europa. The latter was sold to the Heinzmann Group in December 2005.
The Stockport factory was unable to manufacture the VP185 successfully and made a substantial loss on each one they built. This led to a decision to cease manufacture and to dispose of the machining facilities which had been transferred from Colchester. However, so strong was customer interest in the engine that the issue was reviewed. In July 2005 the Paxman factory at Colchester resumed the build and test of new VP185s. Development work on the engine continued and in 2012 the Company started to offer versions of the VP185 with Electronic Fuel Injection (EFI).
---
Your input - Please contact me if you have additional material for submission or would like to offer any comments or suggestions. From time to time new pages are added to the site, and existing pages are updated as new information becomes available.
Web hosting provided by Paul Evans and the Internal Fire Museum of Power, whose support is gratefully acknowledged.
Page updated: 25 NOV 2015