History of Paxman's Ownership and Corporate Identity
1865 - The firm of Davey, Paxman & Davey, Engineers is founded by James Noah Paxman and the brothers, Henry and Charles Davey.
1871 - Thomas John Balls joins the partnership and in October the business becomes Davey, Paxman & Co.
1877 - Henry and Charles Davey withdraw from the partnership and retire.
1886 - Thomas Balls, now in poor health, leaves the partnership and retires.
1890 - James Paxman's eldest son, William, joins his father in the business.
1894 - William Paxman becomes a partner in the firm.
1898 - The concern becomes a limited company - Davey, Paxman & Co Ltd.
Post-World War I
In the years leading up to James Paxman's death in 1922 the management of the Company devolved mainly upon his eldest son, Major William Paxman, and Mr P A Sanders. Mr Sanders, later to become Sir Percy Sanders, was appointed Deputy Chairman of the Company in 1920.
1920 - Paxman becomes a member of Agricultural & General Engineers Ltd (AGE). Paxman was one of the last companies to join this combine of fourteen engineering businesses which was formed in 1919 to provide centralised management and sales, especially in overseas markets.
Neither the arrangements for centralised management or centralised sales worked successfully in practice. AGE was not sufficiently flexible in its operation to adapt to the difficult economic conditions of the 1920s and the result was its complete financial collapse in 1932. Paxman lost the large sums it had invested in the combine and though as an individual company it was still prospering, it fell with the rest of the combine.
The period immediately following the failure of AGE was extremely difficult and for six months the Company was in the hands of the Official Receiver. Its continuance and subsequent reorganisation were the result of the initiative, drive and financial assistance of Percy Sanders.

1932 - Following AGE's collapse, Davey Paxman & Co Ltd was refinanced and reconstituted as Davey, Paxman and Company (Colchester) Limited, incorporated on 2nd August 1932, with share capital of £50,000. The first Directors of the reconstituted company were The Right Hon Viscount Goschen. GCSI, GCIE, CBE (Chairman), Percy Alan Sanders, Edward Philip Paxman (James Paxman's youngest son), Frank Lucas Jarrett and John Douglas Dean. The active direction of the company now fell to Percy Sanders and Edward Paxman who were appointed as Joint Managing Directors. Edward Paxman also acted as Technical Director. Frank Jarrett (1868-1950) was Managing Director of the noted electrical contractors, Drake & Gorham Ltd which in 1931 had placed engine orders with Paxman for prestigious contracts with the Bank of England and the Prudential Assurance Co. The rapid expansion of the company required an increase in capital which was provided by Sir Bernard Greenwell who joined the Board in 1937. Sir Bernard died in 1940 and his son, Sir Peter, disposed of his shares to Messrs Ruston & Hornsby of Lincoln.
1940 - Through the disposal of Sir Peter Greenwell's shares in Paxman, Ruston & Hornsby Ltd of Lincoln gain a controlling interest in the Company. The two companies form an association, later known as the Ruston-Paxman Group, each being responsible for the development of complementary ranges of diesel engines and other products.
1941 - (January) The name of the Company reverts to Davey Paxman & Co Ltd.
1954 - (January) The engine governor and control side of Paxman's business is formed as a separate company, Ardleigh Engineering Ltd, which starts to trade under that name the following year.

1962 - (September) Following Paxman's purchase in 1958 of the Curtiss-Wright Corporation's European governor operation, based at Roden in the Netherlands, Ardleigh Engineering Ltd and the Roden business start to trade under the name of Regulateurs Europa.
1966 - The businesses of Ruston & Hornsby and Davey Paxman are acquired by the English Electric Co Ltd. The diesel interests of the enlarged group become English Electric Diesel Engines Ltd subsequently renamed English Electric Diesels Ltd in 1968. Paxman thus becomes associated with Dorman (Stafford), Napier, Kelvin (Glasgow), and English Electric. Paxman becomes English Electric Diesels, Paxman Engine Division.
1968 - The English Electric Co Ltd merged with the GEC Group of Companies (the General Electric Company of Great Britain). Although technically this was a merger, it was in reality and in effect a takeover of English Electric by Arnold Weinstock's GEC.
1970 - (c. January) The Paxman and Ruston diesel businesses become Ruston Paxman Diesels Limited, a Management Company of English Electric Diesels Limited, with their headquarters at Vulcan Works, Newton-le-Willows.
1972 - English Electric Diesels Limited changes its name to GEC Diesels Limited.
A list of the operating companies within GEC Diesels Limited, as at 1978, is given as an appendix at the foot of this page.

1975 - The business of Ruston Paxman Diesels Limited is split to create two separate management companies within GEC Diesels Limited: Paxman Diesels Limited and Ruston Diesels Limited. From mid-September 1975 Paxman started to trade under its new name which was retained until after the formation of the joint venture GEC ALSTHOM in 1989.

1989 - (September) GEC in England and Alcatel Alsthom of France form a 50/50 joint venture, GEC ALSTHOM. Paxman (together with Regulateurs Europa) is one of several GEC companies incorporated into the joint venture and becomes GEC ALSTHOM Paxman Diesels Ltd.
(1997 - (May) GEC ALSTHOM acquires Mirrlees Blackstone, a very long-established and well-respected manufacturer of large slow speed diesels, based at Stockport.)

1998 - (22nd June) The joint venture company GEC ALSTHOM is floated on the Stock Exchanges of Paris, London and New York, and becomes a French public company, ALSTOM. The diesel interests of ALSTOM, which include Ruston at Newton-le-Willows, Mirrlees Blackstone at Stockport and Regulateurs Europa at Colchester, become ALSTOM Engines Ltd. Paxman becomes ALSTOM Engines Ltd, Paxman Division.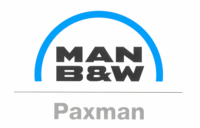 2000 - (9th June) ALSTOM Engines Ltd is acquired by MAN B&W Diesel AG of Augsburg, Germany, and becomes MAN B&W Diesel Ltd. Paxman becomes MAN B&W Diesel Ltd, Paxman.
2005 - (16th December) MAN B&W Diesel Ltd, Regulateurs Europa is sold by MAN to the privately owned Heinzmann GmbH Co KG of Schönau, Germany. Regulateurs Europa Limited at Colchester, and its sister company Regulateurs Europa BV at Roden in the Netherlands, continue to trade under the Regulateurs Europa name, but now as Members of the Heinzmann Group.

2006 - (1st September) MAN B&W Diesel Ltd changes its name to MAN Diesel Ltd.
2010 - (1st June) MAN Diesel Ltd changes its name to MAN Diesel & Turbo UK Ltd.
---
Appendix
GEC DIESELS LIMITED
As at 1978, GEC Diesels Limited had its headquarters at Vulcan Works, Newton-le-Willows, Merseyside and controlled the following businesses:
Ruston Diesels Limited, Vulcan Works, Newton-le-Willows, Merseyside WA12 8RU.
Activities: Manufacturing medium speed in-line and vee-form English Electric and Ruston diesel and dual-fuel engines.
Ruston Forge Division, Iron Works, Lincoln.
Activities: Producing forgings and stampings.
ALCO Power Inc, Auburn Works, Orchard Street, Auburn, New York, USA.
Activities: Manufacturing medium speed in-line and vee-form ALCO diesel engines.
Paxman Diesels Limited, Hythe Hill, Colchester, Essex CO1 2HW.
Activities: Manufacturing medium and high speed, compact, high performance, in-line and vee-form Paxman and delta form Deltic diesel engines.
Dorman Diesels Limited, Dorman Works, Tixall Road, Stafford ST16 3UB.
Activities: Manufacturing medium and high speed, in-line and vee-form, air and water-cooled diesel engines.
Société des Moteurs Baudouin, 165 Boulevard de Pont-de-Vivaux, Marseille, France.
Activities: Manufacturing medium and high speed, in-line and vee-form water-cooled diesel and natural gas engines. Marine gearboxes and sterngear.
Kelvin Diesels Limited, Kelvin Works, 254 Dobbie's Loan, Glasgow G4 0JL.
Activities: Manufacturing Marine diesel engines, in-line, water-cooled. Marine gearboxes and sterngear.
Paxman Process Plant Division, Hythe Hill, Colchester, Essex CO1 2HW.
Activities: Manufacturing sludge concentrators, rotary vacuum drum filters, liquid separators, belt filters.
Dorman Foundry Division, Beevor Foundry, Lincoln LN6 7AB.
Activities: Foundry specialists in cast iron components for diesel engines and other engineering applications.
Regulateurs Europa Limited, St Leonards Works, St Leonards Road, Colchester, Essex CO1 2NX.
Activities: Manufacturing pneumatic, hydraulic or electrically operated engine control systems and engine governors.
Regulateurs Europa BV, Ie Energieweg 8, Roden, Netherlands.
Activities: see Regulateurs Europa above.
Page updated: 05 MAR 2015